CUSTOM
PHONE
CASE
DESIGNS
PERSONALISED PHONE CASES USING YOUR PHOTOS AND TEXT
Custom phone cases let you create a unique feel to your phone and an individuality at a very affordable price. We can customise your case to create a feel and look you want or you may just like a design as it is.
Our custom cases will make your phone standout. Cases for the Iphone Samsung Galaxy Hauwei LG or HTC.
Buying a phone case is a great idea, when you sell your mobile phone getting the best price is always dependant on the condition so by protecting your phone with a case is even more important, getting a better price for your phone makes perfect sense.
So if you are thinking of buy that extra protection to keep your phone like new why not get one with a cool fun design it will always be a talking point every time you get your phone out.
Custom Phone case you will love
Our phone cases are printed using the latest UV printing. Each case is made of strong polycarbonate material or soft flexible TPU and printed to order.
New designs are added every week
Both the hard cases and TPU cases are printed on clear phone cases allowing your phone to show through. The design of the cases is as slim as possible so your phone won't feel too bulky but both provide protection keeping your phone like new, the TPU has a matte feel which provides a more secure grip. The hard plastic case also gives a good level of protection from drops and scratches from everyday use.
Customise you case with you name, phase or slogan in a wide range of fonts, Customise the colours to make it truly unique.
For more information see "how do I customise my case"
WHY YOU NEED A WIRELESS CHARGER
Keeping your phone in perfect condition is even more important than ever. Companies willing to pay you good money for you old phone when you renew are increasing and looks to continue, but they will only pay top price for perfect condition. So if your phone has scratches or the screen is cracked this will dramatically reduce the price they will pay, so a phone case is now essential to protect your phone.
One of the main reasons why your beloved Iphone resale value can go for £100 to down £25 in the blink of an eye when it has no scratches or cracks is its ability to be recharged.
We all seem to reach a point when you come to charge your phone you just need to get it in just the right position and carefully leave it as the connection is just not as good as it was when it was new, but hey it is nearly 2 years old and has been plugged and unplugged maybe 1000 times in its life. As soon as you send your phone off to the company who has offered you the best price the first check they will do is recharged it and if your connection is a bit loose and not as new your price will drop like a stone losing maybe 75% of the original quoted value.
You have spend £20 on a lovely looking phone case to protect it from everyday ware and tear so it makes perfect sense to invest in a wireless charger. No need to plug in just lay your phone on the charger and that's it no more damaged charging ports. With a phone case screen protector and now wireless charger you phone after 2 years will still be like new.
Create a custom case from your own picture
Choose your picture. The Higher the resolution the better. A file size of 4MB or more is ideal, The format can be JPG, GIF or PNG most smartphone will be JPG so you won't need to worry
Now select your phone case model and either a hard-plastic case or soft flexible TPU you can choose an effect or keep it original. Next add to cart then view cart to check your order and proceed to checkout
now you can upload your image and complete your delivery details. If you are Customising your case with your name use the order notes at the bottom of the checkout page.
Select Paypal and make your payment. We email you a proof of how your phone case will look, you will need to approve this so we can start printing your case. 
Choose a watercolour finish to give a simple clean feel. Great for any picture from family photos to countryside, perfect for that picturesque harbour to create hoilday memories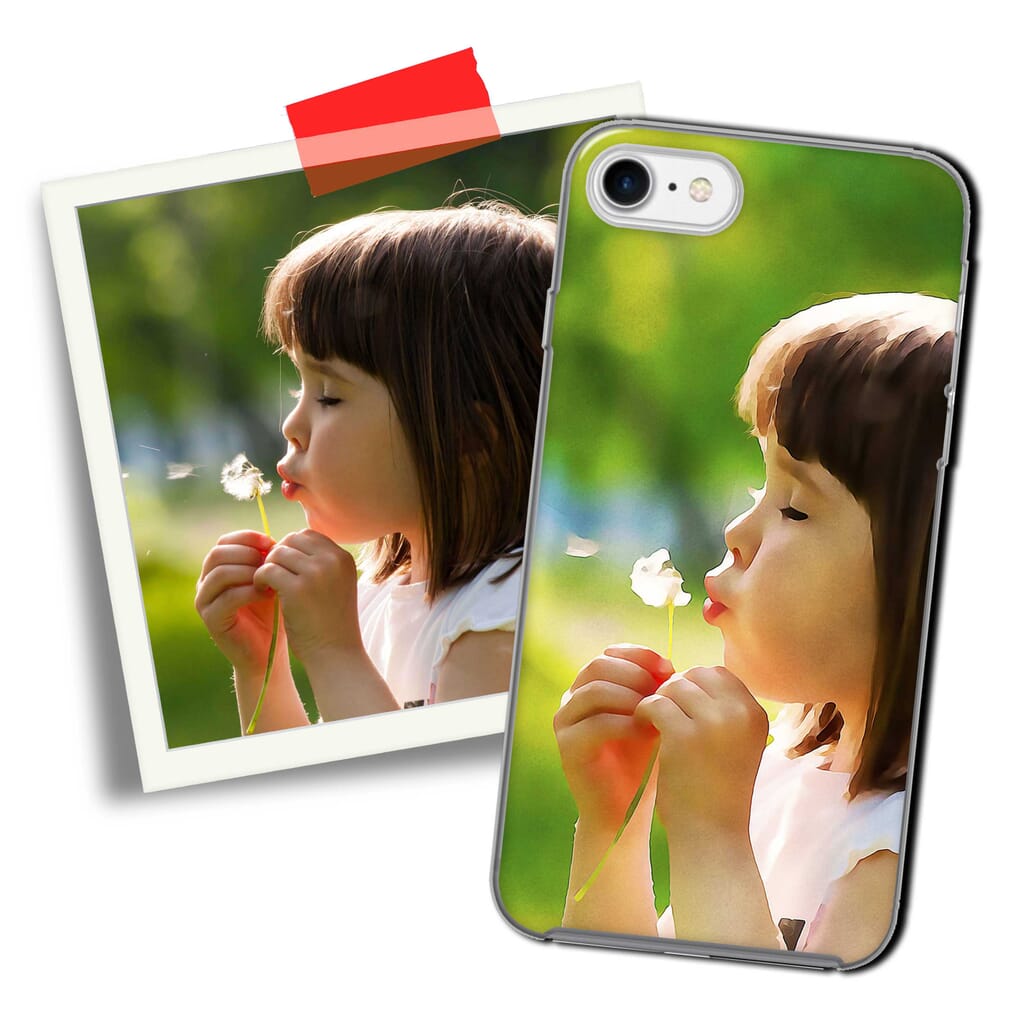 Artify your photo gives a smooth sharp finish. Take a really cool selfie with a fantastic background, it makes a beautiful custom phone case you can cherish.
Underpainting produces a bright image for your phone case. You can use the effect on any picture and will enhance the detail to create a stunning phone case.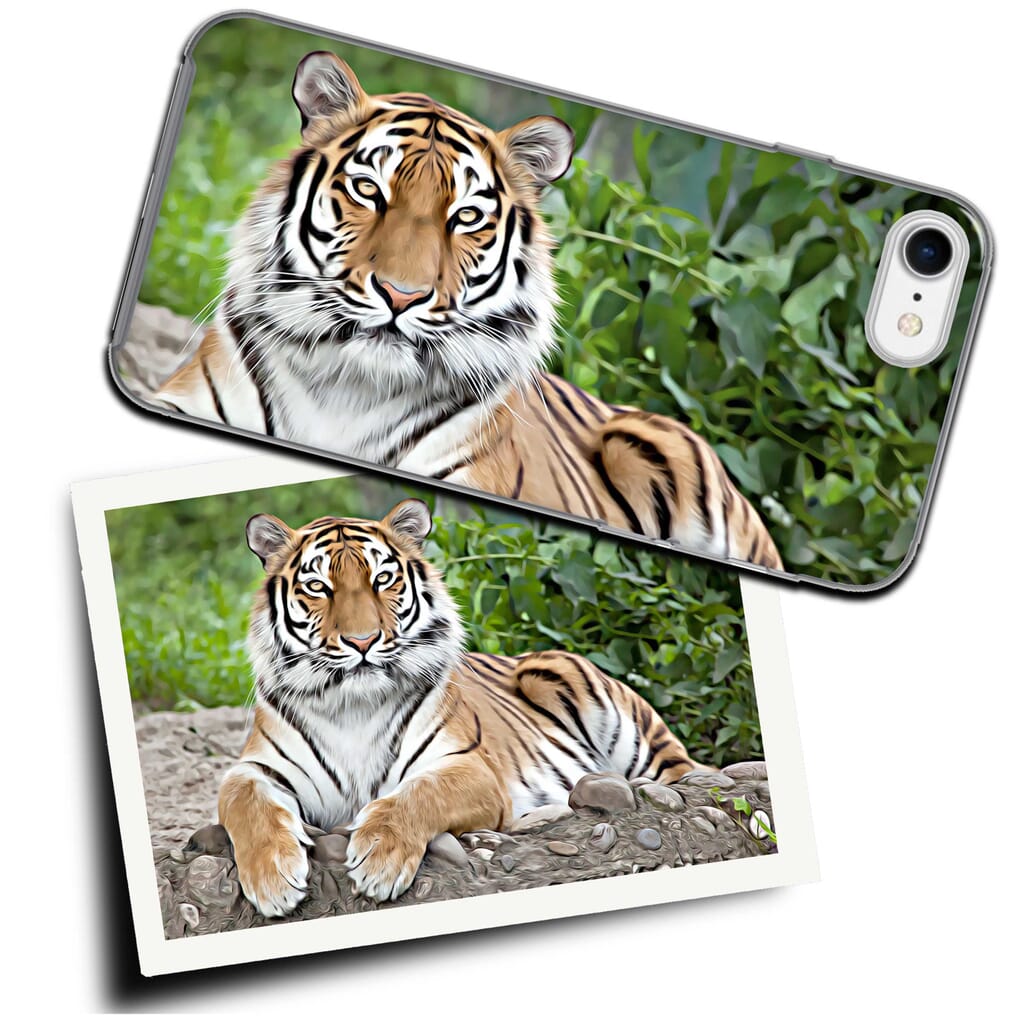 Whatever your business is it you can go wrong with a customised case. It shows a professional approach to your busness. Whether a phone case or Ipad case its a simple way to help build brand recognition.
Just upload your logo at the checkout page and we will do the rest. We will email you a proof so you can see how things will look when printed. Custom business cases are on sale at 20% off. Secure payments through PayPal.
Latest Designs
Phone Cases
Ipad Cases
You Name
You can use your own photo to create a very personalised phone case, you can keep it as the original picture or we can apply an effect such as "Artify" "Watercolour" or "Underpainted" each process will produce a bright beautiful phone case. When you order your custom case and choose one of our effects, to make sure you are 100% happy with your design  we will email a proof for you to approve, this will ensure you are happy with the effect you have chosen and how it will fit on your case. Some pictures such as your favourite French harbour town with brightly colour houses might suit a watercolour effect where you girlfriend an artify finish will enhance the image.
For the best results you will need a high-quality photo usually around 4 megabytes works well. We want you to be happy with your custom case and we will make every effort to create a case you will love.
Some pictures will look better landscape but don't worry let us sort that out and see which one looks best. If you are unsure just send your image as an attachment and we will have a look for you. Don't compress the image, this will reduce the quality.
Iphone x Samsung Galaxy, Hauwei, LG, Experia Sony and HTC.
Need a case for your Ipad? We offer a Smart case for all generations of the Apple iPad, which combines a case and a stand which makes your Ipad great for every day use
Smart covers are attached to the side of the iPad with a magnet, protecting the screen of the tablet. You can customise your Ipad case or cover with any design
We also offer a range of Iphone and Samsung Galaxy wallet cases which are printed on one side using high quality sublimation printing. The cases are made of artificial leather and give a flawless print finish.
The wallet cases will give all round protection whilst still allowing you a great custom phone case design. 
HOW DO I CUSTOMISE MY CASES
If you want a name on your case or change the colours in anyway just let us know. At the bottom of the checkout page is "order notes" use this section to tell us what you would like we will do our best to print a case you will love. If you want a certain font, colour, style just let us know or you have any question please contact us. We think you will love the designs just as they are, new designs are added every week.
DISCLAIMER
Please note when you agree to the terms and conditions for are accepting liablity for the rights to the photo or image and you own the rights to the photo or image or have permission from the owner to use the photo or image.